Interactive Whiteboards for Business
Enhance Engagement and Collaboration
From small businesses to the Federal Government, the demands of the modern workplace require technology that promotes and enhances seamless collaboration.
With a focus on security, TouchView's interactive whiteboards and display panels help businesses by fostering employee engagement and collaboration among co-workers. Whether your staff is brain storming ideas in a huddle space, making a presentation to customers in different time zones, or coordinating teams in a global work environment, a TouchView Interactive panel lightens workloads and makes workspaces more professional.
All of our panels feature 4K resolution and up to 20 points of touch. With available PTZ camera and conference microphone, they make the perfect solution for video conferencing.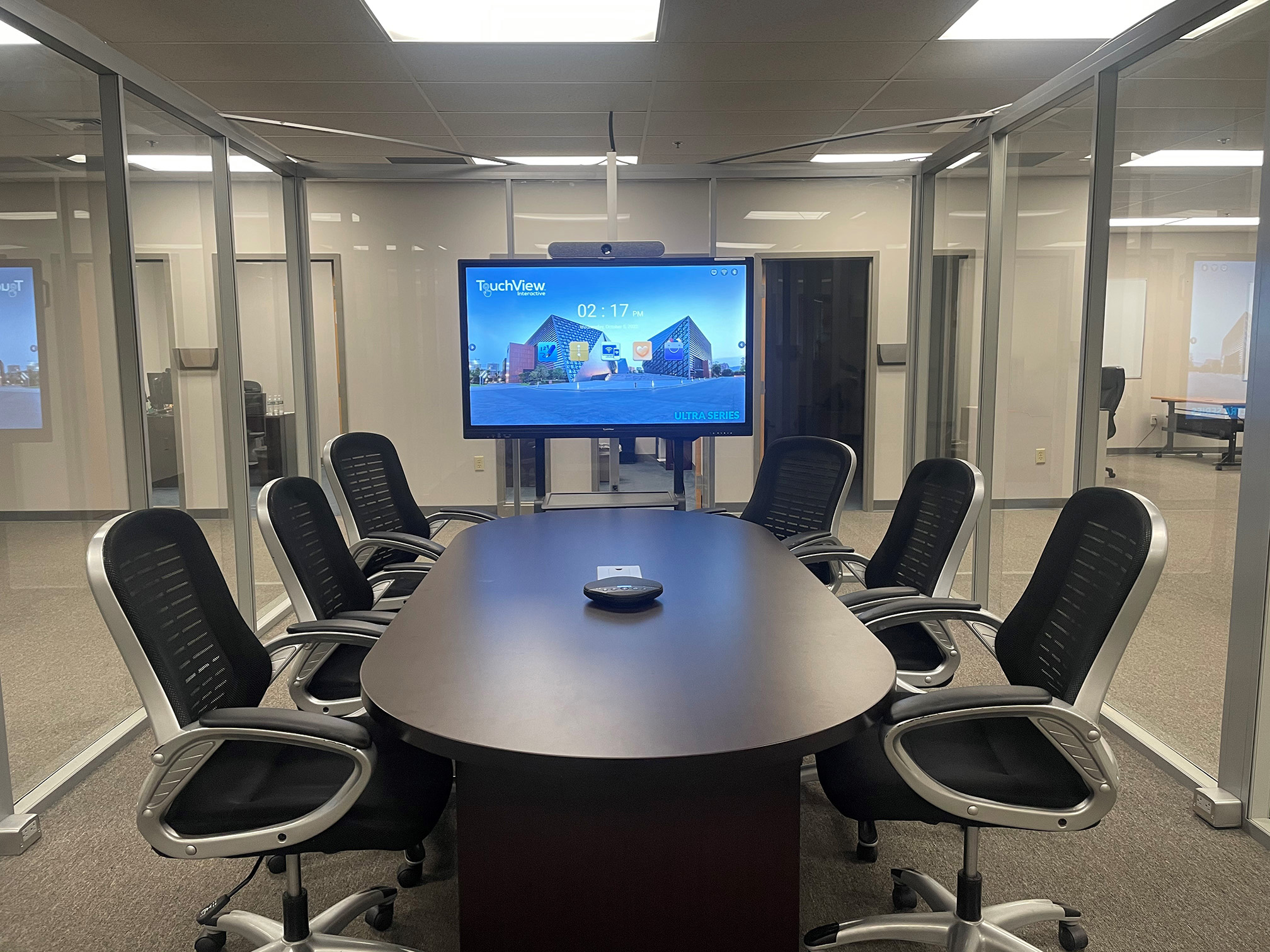 Security by Design
Reduce Operating Costs
Productivity at your Fingertips
Engineered for Durability
Support for Legacy Software
At TouchView Interactive we know that security in the workplace is a mission critical feature. From design to country-of-origin manufacturing, we work to ensure your data and operations are safe.
Our Pro Series panels are Trade Agreement Act (TAA) Compliant. To be TAA compliant a product must be manufactured or substantially transformed in the United States or a TAA-designated country. We also offer the PRO with and without WiFi capabilities for facilities that require internet access to be disabled or unavailable.
TouchView Interactive also offers Enterprise-level Remote Device Management. With GDPR-compliant tools for screen monitoring, usage logs, and management of restrictions, you can securely prevent improper use by anyone within your organization.
The Remote Device Management system also protects against cyber attacks with an O.S. Integrity Check, Smart Firewall, and anti-virus protection against malware, trojans, and ransomware.
Replacement bulbs for legacy projector systems can be expensive. Interactive whiteboards are like PC's; maintenance is minimal. If you have projectors mounted to the ceiling, access to clean the filter can be tricky; an interactive whiteboard just needs a quick wipe with a damp cloth. A 55" display uses about a quarter of the energy of a projector system attached to a PC. Interactive whiteboards have an impressive 30,000-hour lifespan.
Regardless of which TouchView Interactive panel you choose, you'll find all the tools needed to engage and collaborate with colleagues. An inviting and intuitive home screen leads you to a selection of apps for infinite whiteboarding, access to cloud accounts, and screen sharing. Quick and easy toggling between input sources and files ensures presentations are professional and seamless.
All TouchView Interactive panels are easily integrated with unified communication tools. Our available accessories such as webcams, PTZ cameras, and conference microphones ensure collaboration doesn't stop at the conference room door.
The TouchView Interactive whiteboards bring even the slightest visual details to the forefront, empowering workers to complete their projects accurately and in less time. TouchView UHD interactive whiteboards feature 20 points of touch.
Interactive whiteboards are designed for public use - schools, office buildings, conference centers, restaurants are just a few examples of regular interactive display users. Our displays are built with sturdy screens that can withstand heavy usage. They are also easy to clean and require minimal maintenance.
Access your favorite Windows software just like you would on your laptop or desktop computer. Leverage your Microsoft Office applications on the interactive whiteboard. The touch interface simplifies annotations.
With TouchView's interactive panels for business, colleagues can work side by side, collaborating with 20 points of touch. TouchView panels are essential for creative thinking in the workplace, as well as during presentations.
Accessories for the Perfect Video Conferencing Solution:
TouchView interactive panels for business are cost-effective and known for their reliability. TouchView offers various accessories such as display mounts, mobile stands, and PC-modules.
TouchView is the perfect interactive whiteboard for businesses. Book a TouchView demo today to experience how you can utilize your workspace better with our advanced, interactive technology.
Book a Demo Today