Create engagement in your presentations.
The demands of modern business for seamless collaboration requires technology that helps connect the workplace. TouchView Interactive panels feature infinity whiteboarding, access to cloud accounts and easy integration with unified communication tools. Whether your staff is brain storming ideas in a huddle space, making a presentation to customers in different time zones or reviewing and marking up documents, TouchView has the tools to make this a powerful and professional experience.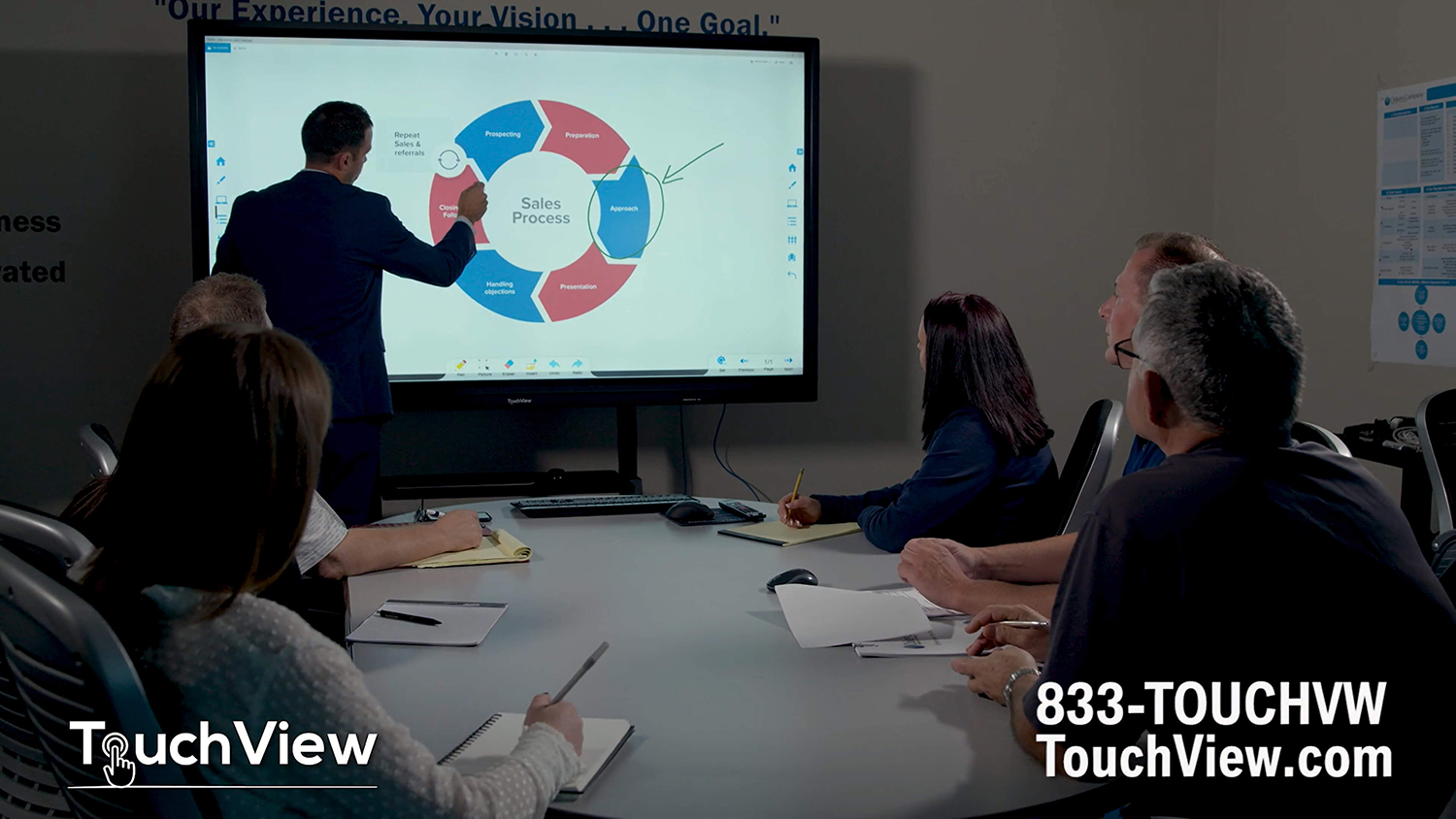 Connect and Collaborate
When you are looking for the ultimate business optimized interactive whiteboard solution, TouchView Interactive flat panel displays deliver. Leveraging content sharing and interactive touch at your fingertips, TouchView Interactive whiteboards help to better facilitate presentations, brainstorming, and decision-making.
Reduce Operating Costs
Replacement bulbs for legacy projector systems can be expensive. Interactive whiteboards are like PC's; maintenance is minimal. If you have projectors mounted to the ceiling, access to clean the filter can be tricky; an interactive whiteboard just needs a quick wipe with a damp cloth. A 55" display uses about a quarter of the energy of a projector system attached to a PC. Interactive whiteboards have an impressive 30,000-hour lifespan.
Productivity at your Fingertips
TouchView Interactive whiteboards are designed to seamlessly integrate into your workflow. The intuitive point-and-go navigation enables users to walk up to this technology and use it without getting confused, needing complex directions, or require a learning curve. The embedded Wi-Fi® capabilities provide the flexibility required for diverse networking needs and offers greater mobility.
TouchView stands out as the choice interactive touch panel for business. With our integrated displays, team collaboration has never been easier for the everyday workplace. TouchView has a variety of options to choose from to ensure that your panel of choice will be the best fit for your work environment.
Sharpen Visual Details
The TouchView Interactive whiteboards bring even the slightest visual details to the forefront, empowering workers to complete their projects accurately and in less time. TouchView UHD interactive whiteboards feature 20 points of touch.
Engineered for Durability
Interactive whiteboards are designed for public use - schools, office buildings, conference centers, restaurants are just a few examples of regular interactive display users. Our displays are built with sturdy screens that can withstand heavy usage. They are also easy to clean and require minimal maintenance.
Support for Legacy Software
Access your favorite Windows software just like you would on your laptop or desktop computer. Leverage your Microsoft Office applications on the interactive whiteboard. The touch interface simplifies annotations.
With TouchView's interactive panels for business, colleagues can work side by side, collaborating with 20 points of touch. TouchView panels are essential for creative thinking in the workplace, as well as during presentations.
TouchView interactive panels for business are cost-effective and known for their reliability. TouchView offers various accessories such as display mounts, mobile stands, and PC-modules. Book a TouchView demo today to experience how you can utilize your workspace better with our advanced, interactive technology.